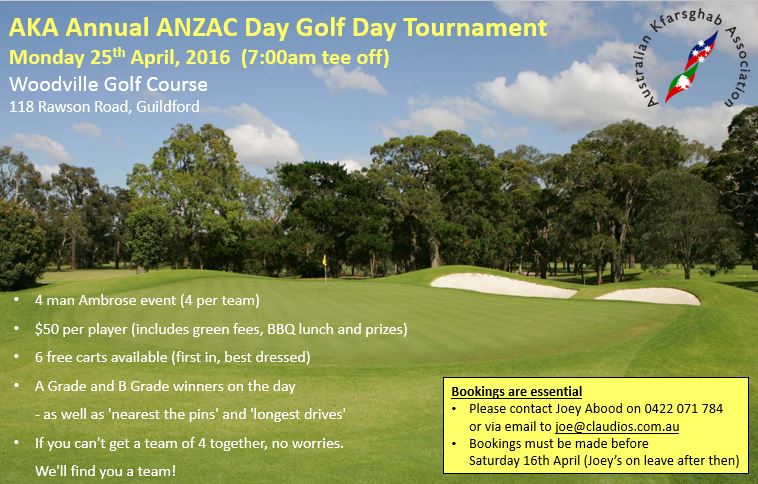 AKA ANZAC Day Golf Tournament at Woodville Golf Course
April 25, 2016
|
$50
It's time again for the annual AKA ANZAC Day Golf Day Tournament!
Here are the details:
Monday 25th April 2016 (7am tee off – 2 tees start)
Woodville Golf Course – 118 Rawson Road, Guildford
4 man Ambrose event (4 per team)
$50 per player (includes green fees, BBQ lunch and prizes)
6 carts available at extra cost (first in, best dressed)
A Grade and B Grade winners on the day – as well as 'nearest the pins' and 'longest drives'
If you can't get a team of 4 together, no worries. We'll find you a team!
Bookings are essential:
Please contact Joey Abood on 0422 071 784 or via email to joe@claudios.com.au
Bookings must be made before Saturday 16th April (Joey's on leave after then)
Share this post, choose your platform!
Note: Recording of private events by AKA is a community service which aims to avoid the instance of function clashing. The information presented here is based on advice from community members and the Association is not responsible for the accuracy of any private events recorded. To register a private event or for any event enquiries, please contact the AKA Secretary.