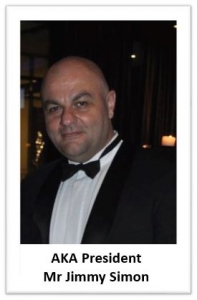 Good Evening Ladies and Gentlemen
On behalf of myself, my Committee and our Association, I'd like to welcome every single one of you here tonight and hope that you'll enjoy the evening with us, in our celebration of 130 years since the first arrival of our ancestors, whom we unofficially call "The Magnificent Seven".
We're very fortunate and blessed to be able to share this evening with some very special guests and we thank them for making time to be with us tonight.
• The first of our special guests is the distinguished Professor The Honourable Dame Marie Bashir AD CVO, former Governor of NSW. We're so honoured to have you with us on this special night. Not only are you highly respected by the Kfarsghabi people, but by all who know you. You'll find within our memorabilia photos, that Professor Bashir has ties with our Kfarsghab community, through her father in law as well as through her brother in law, the late Danny Joseph of Coogee, a fellow Kfarsghabi. Professor Bashir has actually visited Kfarsghab and we hope she will tell us about that trip later tonight.
• Another of our special guests is one of our very own, the Most Reverend Gerard Hanna, Bishop Emeritus of the Diocese of Wagga Wagga (recently retired). Bishop Hanna is our first ordained bishop in the Roman Catholic Church and is a big part of our celebration tonight, especially with his rich Kfarsghab upbringing in country Armidale. It's interesting to note that Bishop Hanna's great grandfather was actually one of the Magnificent 7.
• Monsignor Shora Maree is another relative and special guest who we're blessed to have with us here tonight. Monsignor is a spiritual leader in the Maronite Church, the church of our forefathers and of our future generations to come. Monsignor's parents and ancestors were one of the big name families of the time, who put themselves out there, not only looking after their own, but also their beloved Kfarsghab community and beyond. Monsignor Shora continues this tradition today, a tradition that his late father Ronnie and grandfather Shora were so well known for.
Looking back at our ancestors' arrival here in Australia, the plan was to be here for a short period of time, work as hard as you could and then with your savings, return to Lebanon and ensure a better long term lifestyle for your family. However, they didn't however factor in just how much they'd grow to love Australia, its people, and its lifestyle. The love story with Australia probably began when the Australian troops were stationed in parts of Lebanon in the early war years, and were seen by our people as defenders of justice. The early migrants faced difficulties such as no social security, no interpreters and no public housing. It was the established Kfarsghabi families that would look after their community (as well as other villages who needed help and assistance). We take great pride when even to this day, are recognised and thanked by other Lebanese communities, for the guidance and help that Kfarsghabi Australians provided them.
Tonight, I'm very proud to officially announce that the Association has purchased an investment property at Edgecliff for $4,000,040. This purchase is a result of nearly 12 months of market observation and research by our Property Sub-Committee. This is a great investment which will yield a healthy annual income, part of which can be reinvested into programs for our community and potentially a suitable club house.
In closing, I'd like to thank Le Montage for their hospitality tonight and I'd like to acknowledge my hard working committee and the community in general for all their help and support. Our greatest accomplishment and pride, now and into the future, is and will always be our youth and so I'd like to call upon our current Younger Set President Mr Charles Coorey, who typifies our Kfarsghab youth and enthusiasm, to say a few words.
Thank you.
———————————————————————————–
Delivered on 17th June, 2017 at Le Montage, Lilyfield NSW